Wednesday, January 19, 2011 FOR IMMEDIATE RELEASE
CONTACT: JEFF SCOTT 304-757-5487; LYNN BUTLER 304-736-5287
2011 Huntington RV & Boat Show
Big Sandy Superstore Arena
Huntington, WV
Friday-Sunday, January 28 -30, 2011
WHAT: HUNTINGTON RV & BOAT SHOW PROMOTES 30-YEARS OF FAMILY RECREATION!
The 2011 Huntington RV & Boat Show dates have been REVISED for Friday, January 28 through Sunday, January 30, 2011! Due to a scheduling conflict, the Show will not open on Thursday evening as in recent years.
The Huntington RV & Boat Show has been held at the Big Sandy Superstore Arena for nearly 30 years. Quite a span!. And, our founding belief still rings true, that quality recreation-time with family and friends is priceless. Camping and boating adventures shared create a lifetime of treasured memories.
The Huntington RV & Boat Show attracts thousands of travelers, campers, boaters and outdoor recreation enthusiasts from Kentucky, Ohio, and West Virginia every year. With a few million dollars of products on view, you'll find a wide range of recreational vehicles and boats to suit your family's lifestyle and recreational interests. From popular fifth-wheels, travel trailers, light-weight towables and pop-up campers to pontoon boats, speedboats, cruisers and bass boats. Come. Discover. You'll find Fun for the Whole Family.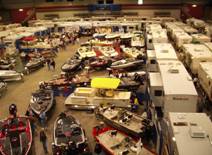 As the region's first and longest-running RV and Boat Expo of the New Year, the Huntington RV & Boat Show provides outdoor adventurers an exciting preview of the many exciting products and services available for the upcoming 2011 recreation season.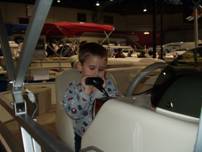 General Ticket Admission: $6.50 adults, kids 12 and under free!
If you are involved in a business or organization that provides products or services in which RV and Boat owners would be interested, and would like to participate in the 2011 Huntington RV & Boat Show, please contact Jeff Scott, Show Coordinator (304-757-5487); Lynn Butler, Setzers World of Camping, (304-736-5287); Stephanie Abbot t, Burdette Camping Center (304-586-3084); or Riley Brothers, Charleston Marine (304-744-3324), about available exhibit space.
2011 Show Dates & Times: (REVISED!!!)
Friday Jan. 28, 2011 5:00pm – 9:00pm
Saturday Jan. 29, 2011 10:00am – 9:00pm
Sunday Jan. 30, 2011 12:00 noon – 5:00pm
For Further information, Contact:
Jeff Scott, 2011 Huntington RV & Boat Show Coordinator
(304) 757-5487