Free Fishing for Children an Annual Tradition
By Chris Erwin
For the last eight years, a Kids Fishing Derby has been held at the Minor E. Clark Fish Hatchery near Cave Run Lake. Before that, it was at the lake's tail waters or Stony Cove. The commitment of all the people that make this event happen should be told to the public, but before I do that, I want to share with you how much fun kids seemed to be having at this year's event, which I attended.
I can report the derby been growing by leaps and bounds since Kentucky Angling been covering it, several years ago. About 500 kids attended this year's Derby, which caused officials to open up another pond this year. The space was needed as kids lined the banks reeling in one fish after another.
When I got out of my car and headed into the hatchery, It looked like a sea of kids lining the banks side by side. Tom Timmerman, one of the biologists for the Kentucky Department of Fish and Wildlife was on a loud speaker giving away prizes, while volunteers from the Kentucky Houndsman Association were cleaning fish. It was plain to see the fish cleaning job was a monumental task. The kids were standing in line to get their stringers or fish baskets full of fish cleaned. I understand the fish cleaning lasted way beyond the hours allotted for fishing.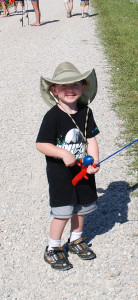 As I walked along the shoreline one kid after another jumped up wanting me to take their picture while they fired off their story of the big one they wrangled to the bank with smiles spreading from ear to ear. I listen to the stories. I'm sure I was grinning as big as they were. The excitement and thrill these kids were experiencing was infectious to all the adults present. I can't even begin to convey how much fun these kids were having.
Bluegill, Bass, Catfish, all coming to the bank as bobbers disappeared, with yelling were coming from all directions. It was a picture worthy of Norman Rockwell painting, with smiling faces the kids proudly grabbed their lines and held up their catch for me to take their pictures.
While we are limited in space in print, we will try to post more of the pictures in the magazine. If I get any of the names wrong, I apologize in advance, but let me know and I will correct them online. I was besieged by names and ages as I tried to get pictures.
The success of this event is the result of a lot of people giving their time and money to help.I should mention the derby was the idea of Scott Napier from the Morehead Walmart. He contacted the right people with the U.S. Forest Service and KDFWR to get it going and it's an event he still highly supports. The give-a-ways, food and portable toilets are all donated through Scott.
This year the following sponsors also made donations to the Cave Run Kids Fishing Derby Committee: Kentucky Department of Fish and Wildlife Resources (The Northeastern Fishery District, Minor E. Clark Fish Hatchery, Forks of Elkhorn and the 8th District Law Enforcement Officers), U.S. Forest Service, The Army Corps of Engineers, Kentucky Bank, Walmart of Morehead, Kentucky Houndsman Association, Northeast Fish and Game Club, Stokley's Marine, Frito-Lay, Hiners Bakery, Coca-Cola, Jennings Septic, Morehead Chapter of the National Wild Turkey Federation, Lexington Chapter of the U.S. District Attorney's Office, Cash Express, St. Claire Regional Hospital, Farmers Volunteer Fire Department and Morehead Rowan County EMS.
Next year's fishing derby will be on June 6. Hope to see you there!