By Chris Erwin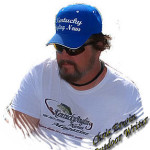 Now that we see water temperatures falling below 50 degrees it's time to change technique to catch bass in cold water. Over the years, cold-water fishing methods have become a really productive way to extend your season as well as getting a jump on the spring fishing.
Two methods of cold-water fishing I want to cover today are the Float-N-Fly and the A-rig. The Float-N-Fly was developed to fish cold water. The A-rig was developed to fish schooling and suspended fish. Together they can produce fish in very tough times.
The Float-N-Fly: This method was developed by a Tennessee angler by the name of Charlie Nuckols. He was the owner of Bullet Lures. While Nuckols died in a boating accident in 1996, this method is alive and kicking today. It has grown in popularity among smallmouth anglers and other angler wanting to catch fish in water colder than 45 degrees.

Some people think this is nothing more than a crappie jig with a snap-on bobber. However, this is not the case. Many days on the water by a handful of cold-water anglers have refined this technique, making it one of the most productive methods to catch fish when nothing else seems to work.
We should cover the equipment first, and if you are learning this system, I strongly suggest that you start with the right gear and get ready to be patient until you get your method mastered. Rod: While in many published articles about this system authors suggest a soft-action rod eight to 11 feet long, I prefer a longer 11 to 12 foot two-piece rod. I have found over the last few years that B&M Rods make a 12-foot crappie rod that I really like for this method. Fly: They are a lot of flies out there these days that all boast they are the fly you want to use while using this method. However, this is what I have found. The original flies used by Charlie Nuckols were 1/16-ounce jigs tied with craft hair. The hair was tied to be about two inches to resemble resident bait fish, and the craft hair expanded to give the lure life. Today, I personally like the Punisher Jigs developed on Dale Hollow Lake. They come in a handful of fish-catching colors. Reel: I like a spinning reel, light or ultra-light spooled with 4 to 6-pound monofilament line. You can go to a heavier line and use a light-weight leader. I use a snap-on bobber instead of a slip bobber set at about 14 feet.
Both the Float-N-Fly and the A-rig use about the method to find fish, however, they use a different presentation. The Float-N-Fly uses very little action — the ripple of the bobber on the water is enough to give life to your jig. Finding fish using your electronics it a must. Once you find the fish in or near the 14-foot mark, you're ready to deliver your presentation keeping your lure in the strike zone moving it very little.

The A-Rig: Andy Poss, of Muscle Shoals, Ala. developed this method and is generally credited with the A-Rig. Some off-shore anglers had been using a similar rig called an umbrella rig. Poss' creation was smaller but both used five swim baits, usually of a soft plastic. His method wasn't necessarily for cold water; however, many anglers have realized that if they go down in line size from the 50-pound (the suggestion from the lure company is 12 to 15-pound test) and downsize the swimming jigs to two inches, it makes a productive cold-water lure and can be fished much deeper than the float-n-fly. This method uses a baitcasting reel on a 7-foot rod. Once you locate fish and mark them with a buoy you slowly move the A-rig through or just above the fish. The key word here is slow — very slow. This method has been known to catch more than one fish at a time, which has prompted some states to limit how many baits you can use at once. So, you need to check the laws in the state you plan to fish to make sure you are not breaking any laws.
In conclusion, depending on the depth of the fish you find. One of these methods should help you put fish in the boat, even on the coldest water. If you have questions about these two proven cold-water techniques, you can contact me, and I'll try to help.
Chris Erwin is the Author of Camping Kentucky, founder and publisher of Kentucky Angling News an on-line magazine available at www.kentuckyangling.com/magazine Chris can be reached by email chris@ashlandbeacon.com