BY Chris Erwin   
Families across the region all have their traditions; many of us meet at someone's house have Thanksgiving dinner and watch football or watch the parade or even the dog show.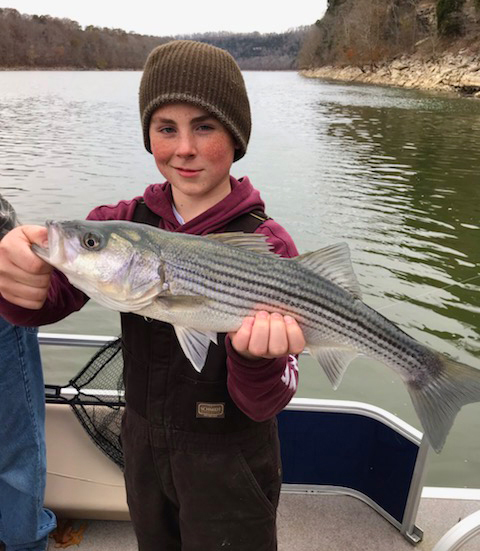 The Mullins family does things a little different. They do meet and have Thanksgiving Day dinner. However, after dinner they pack up and head for the Dixie Bend Retreat on Lake Cumberland.
The Dixie Bend retreat is in Burnside Kentucky, where the Mullins family has some property, they try to spend as much time as possible there where they play and fish on Lake Cumberland.
While most of the state is winding down from a busy summer on the water, Lake Cumberland is known for catching cold-water smallmouth bass and the transplanted salt water Striper. The Striper is no little fish; it's common to catch a fish over 30 inches, and if you're lucky much larger.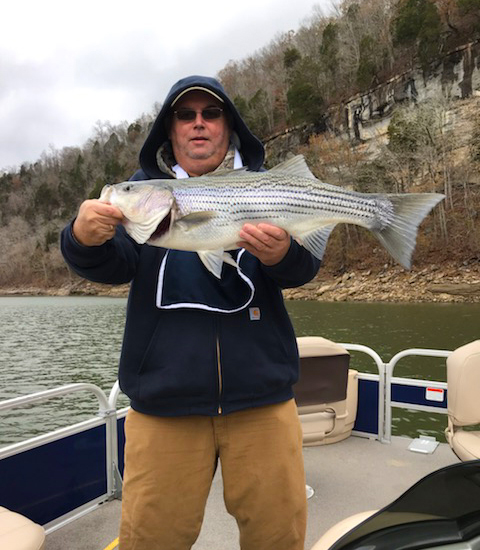 Six members of the family headed out on the water the day-after Thanksgiving. They load up their pontoon boat and heading for their honey hole. On this trip, they had one of the younger members of the family Landon Mullins. The grandson of Rick Mullins; he is 12 years old and about to discover what it's like to have one of them good days on the water.
The methods used to try to catch these fish are a common one for Stripers this time of the year. They used an "Umbrella Rig" this system holds about four to eight baits, in this case a bunch of modified doll-flies. The idea of this lure is to look like a cluster of bait fish. Each one of them had this rig on their rods.
The rods are all cast from different areas of the boat, then the boat is dropped into gear trolling at about two miles an hour; this is about as slow as the big engine will go, they let out about 65 feet of line. Engaging their reels and slowly moving over the areas where they believe the Stripers are located, they wait for a strike.
Going this time of year Rodney Mullins one of the brothers on the trip told me "you never know if it's going to be a short-sleeve day or so cold it's hard to sit still." This trip was cold, heavy coats and toboggans were in order. I tell you from years of introducing kids to fishing it's hard to get them to catch the fever on a day like that was.
The exception is when the fish decide to bite, and bite they did on this trip. Landon's rod bent double as a Striper took his bait. Excited and grinning from ear to ear the young lad managed to land 11 different Stripers. The cold was no match for the adrenaline rush of hauling in these fish. There is nothing liking watching a kid catching a big fish.
The adults caught fish as well; the big fish of the day was caught by Paul Mullins it was a little over 30 inches. It's funny how the cold weather seems to be a non-factor when you are having fun with your family. Giving thanks for what we have can be done in many different ways, but I can't think of a better way than to be together and enjoying nature.
Of all the fish they caught, only two legal fish were kept. Rodney told me that Landon also had the first lesson on how to fillet a Striper then cut it up for breading and deep frying. So the Turkey was on Thursday, but the fish was on Saturday. If you have a hunting or fishing story, you would like to share with me contact me, it just might end up here.
$59.95 While they last FREE shipping
After adding to your cart return back to the bottom of the page to complete your order
(paypal)