By Carrie Stambaugh
MOREHEAD In its first two years of existence, the Sheltowee Trace Association has made significant strides in improving Kentucky's longest hiking trail by mobilizing volunteers to support it.
There is still a lot of work to be done, according to Executive Director Steve Barbour, who has been leading the fledgling organization since its inception in Sept. 2009.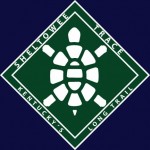 The organization has already made tangible progress improving trail conditions and increasing the amount of information available to users, he said.  Its long-term goals are to continually improve the quality of the Sheltowee in order to raise awareness about its presence and attract repeat users.
According to Barbour, the STA grew out of discussions between visitors to a Sheltowee Trace web site (www.sheltoweetrace.com) operated by two frequent trail users.  "What was being reported on the social network was this problem of trees being down and people losing the trail because it wasn't marked," Barbour said.
He added major portions of the 282-mile trail that stretches across the state through the Daniel Boone National Forest, also lacked an up-to-date map at that time, further compounding matters.
Most of the online conversation taking place centered on these issues and users' desire to increase the quality of the trail "to the quality a national recreation trail is expected to be maintained to," Barbour said.
"One of our objectives was to get people to return. To get them to return we realized they must have some type of positive experience being out in the woods," Barbour said. "We needed to have better blazing, better mapping, a better trail guide and we needed to have an association that would be out there doing maintaining of the trail so people could find it in the woods, in the wilderness."
Spurred to action by the ongoing conversation, the group of online collaborators along with other stakeholders met in Sept. 2009 with representatives from the U.S. Forest Service to form the non-profit Sheltowee Trace Association. A board of directors, consisting of 12 individuals from across the commonwealth, was formed and Barbour was chosen to be the executive director.
The organization quickly got to work. Within months, volunteers installed more than 500 blazes along the entire length of the Sheltowee, which stretches from Pickett State Park in Tenn. to just north of Morehead in northeastern Kentucky.
"We've probably seen a 98 percent drop in the people who say they got lost and couldn't find their way," Barbour said earlier this summer.
Daniel Boone's London District Ranger Derek Ibarguen is the forest service's liaison with the STA. He praised its success in blazing the trail and the ongoing efforts to improve its condition, saying the group has been "helpful."
Another early STA goal was to create an updated map and guidebook for trail users.   Again, the trail's online presence was an asset here, Barbour said.
Professional hiker and guide book author Scot "Taba" Ward approached the organization with his plans to thru-hike the trail and create a guide book. After walking the entire length of the trail from south to north during the fall of 2010, Ward published a 51-page guidebook titled "The Thru-Hikers Manual for the Sheltowee Trace." It gives in-depth information about trail conditions, water sources, and resupply options as well as historical and other tidbits of information useful for users heading northbound. The manual is available through the Sheltowee Trace Association's web site at www.sheltoweetrace.org.
"That has been one of the biggest assets for us in terms of letting people know how to access the Trace, what they can expect on the Trace and how to plan a weekend or three week adventure," said Barbour.
The STA then turned its focus to the development of local trail work crews to maintain certain sections of the trail. In the spring of 2011, volunteers walked sections along the entire length during a weekend to report trail conditions and set priorities for maintenance over the summer, Barbour said.
Volunteers have since undertaken a number of projects including building a new bridge and set of stairs in the Bark Creek Camp in the DBNF's London District. This particular project utilized pack animals and workers from two different Kentucky horse associations, STA volunteers and workers with the Youth and Adult Conservation Corps.
The development of maintenance crews and recruitment of volunteers will be an ongoing challenge, according to Barbour and Ibarguen.
"The goal (this year) was to have two trail crews going," said Barbour, "We already have a strong trail presence in the Cumberland Falls area but we wanted to establish a crew in the north and a crew south, in the Red River Gorge."
A Ridge Runner Trail Crew has been established in the Morehead area and charged with maintaining about 40 miles of the northernmost section of trail, he said.  That group is headed by STA treasurer Jeremy Boone and has already organized several successful outings including one in late June.  A RRTC work day is also set for Saturday, July 23 beginning at the Dry Branch trail head.
Barbour said the organization needs volunteers to log 2,000 hours or more doing trail maintenance during 2011 in order to establish a pattern of in-kind donations that the STA can then use to apply for matching grants. Grant funds will then be used to purchase more tools and tool trailers so additional trail crews can be formed in other areas and have easy access to the equipment they need, Barbour said.
Trail maintenance crews are also important in establishing a sense of local ownership over the trail, according to Barbour. "The trail is mostly on forest land and we all own that land and we all have a responsibility to do what we can, where we can to maintain the entire trail system in the Daniel Boone National Forest," he said. "If people can feel some ownership they are more likely to join the association and participate in the activities and we all benefit. If they don't feel any obligation or benefit they are less likely being a long term supporter of trails," Barbour added.
Ibarguen again praised the organization's efforts over the last two years in fostering local support of the trail and working toward its betterment.
"The Forest Service plans on continuing them as a key partner in maintaining the Sheltowee Trace Trail, and to continue to help them grow and be involved in the trail maintenance of sections," he said. "Prior to the STA, the forest service maintained it and still does maintain it – but when you have an opportunity to have a volunteer group assist in maintaining it, that is always a good thing. We like to have partnerships with external groups to help with providing a public service," Ibarguen said.
"I expect it to continue to grow and I'm very patient with the relationship developing, we have a good example on the Appalachian Trail," he added.
Looking into the coming years, Barbour said the STA plans to continue building its volunteer base for maintenance but will also turn toward working with landowners to relocate sections of the trail in "troubled spots." There is an approximately 10 mile road walk near Frenchburg and another area in Morehead where the trail "needs to get off the road and into the woods," according to Barbour.
The STA is also currently working on securing the financial support needed to apply for its 501-c3 status, according to Barbour, who added the organization is registered with the Kentucky Secretary of State's Office.
For more information on the Sheltowee Trace Association, to become a member or make a donate,  visit its website at www.SheltoweeTrace.org or follow it on Facebook and/or Twitter.