Author Chris Erwin
Some treasures of Kentucky are hidden in the slow moving peaceful streams that run through the state like veins in a living breathing thing. It's a different way to soak in nature that many fishermen over look in these days of fast boats with a run and gun attitude jumping from point to point, fishing against the clock. In this ever more completive tournament climate that pushes you every minute you are on the water.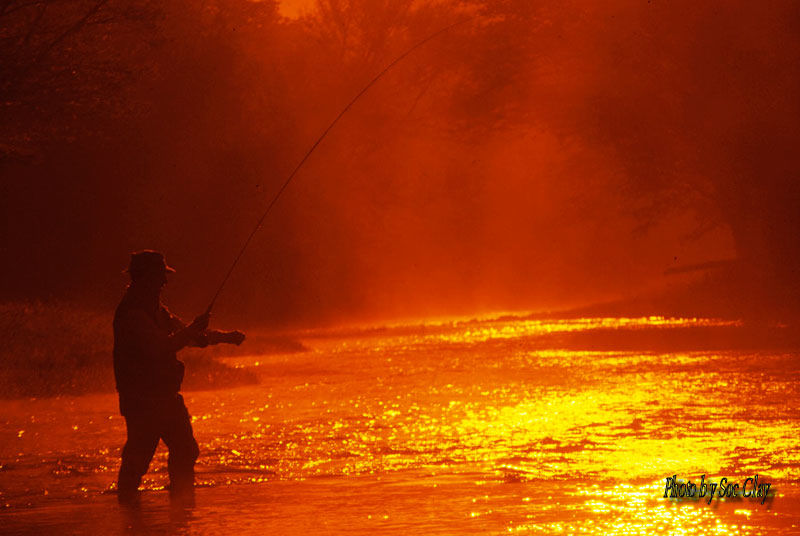 There is a different way, one that is slow, moving only steps at a time instead of miles. Wading the streams of Eastern Kentucky is far from the fast life. Getting your feet wet and seeing nature from a view where you're standing with rocks under your feet, and the feel of water rushing past your legs is something that many new anglers have never experienced.
Stepping into East Fork, Little Sandy, or Tygart Creek is something that many residents of Kentucky have never done even though they may have lived in the state all their life.
Tygart Creek has been written about and explored through the writings of outdoor writers like Soc Clay, Sam Piatt and many others. Its beauty and peaceful nature has been the subject of many backwoods stories that have filled the pages and fueled the imagination of many readers.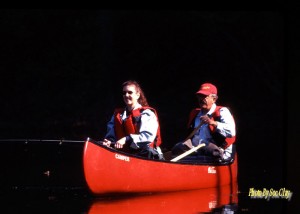 Tygart Creek is about 88 miles long, considered to be part of the Mississippi Water shed it is, in fact, a tributary of the Ohio River. Tygarts Creek is named for early Kentucky explorer Michael Tygart, who ended up drowning near the head waters. The creek is formed in southwestern Carter County by the confluence of minor tributaries, Upper Tygart Branch and Flat Fork. It is joined a few miles downstream by the larger tributary known as Soldier Fork. Tygarts Creek flows generally north-northeastwardly past Olive Hill and Carter Caves State Park into Greenup County, where it flows into the Ohio River at South Shore Kentucky. Along the way, it passes through the Gorge area where high walls line the creek. The splendor of this section is world famous and when water levels permit this six mile stretch is a favorite canoe trip by both locals and visitors alike.
The fishing is good in almost all the pools of Tygart's Creek, bass( both smallmouth and largemouth), bluegill, red eye, and musky all make this little slice of the past its home. Spinning tackle or short fly rods are both well suited for this creek. As a young man, I waded Tygart creek only using a hand full of tackle; it was an adventure that will be with me to the end.
Slipping in the water just off route 182 near the bridge has been a well-known entry point. Many anglers today use float tubs to navigate the deeper sections of the creek and at times this becomes a good place to use a canoe, but for me back in my youth. This was a place to get wet; walking the bank to find the honey holes was a way of life and half the fun.
The lures of choice then were poppers and Creek Chub Darters, along with a four inch plastic worm rigged with two brass beads and a weed-less hook. I had never heard of a Texas rig back in those days but this nearly weightless rig sure caught a ton of fish. I used a spin-cast ultra-light rod, one that was set up like a spinning outfit but used a spin-cast reel instead of an open bail spinning reel. Armed with my little plastic lure box that snapped to my belt, an old pair of tennis shoes, ones my mother had declared worn passed daily use, and I was ready for a day of fishing.
It was a time of exploration, every bend in the creek opened up and new pool of water. I quickly learned about eddies, "run in" and places where roots of trees would hold fish right against the bank. Casting my ultra-light offering into these hiding places would pay off repeatedly, most of the fish would be considered small but the fun was anything but small. Just when you thought you were never going to see a big fish. One would pound your lure, and then the fight was on! In shallow water on light tackle it was a thrill that will always be in my memories.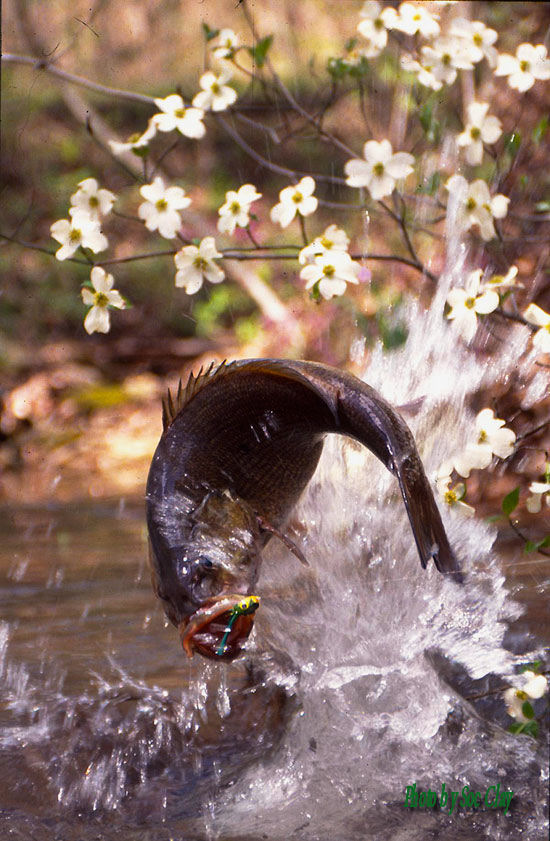 If this type of fishing has sparked some interest in you, it's time to do a little leg work and find where you want to enter the water and where you want to end up, if you are going to cross private land to enter the water you should get permission. Be sensitive to crossing fences and where you plan to park your car.
Tip: by using two cars you can park one where you enter the water and leave the other where you plan to exit the water; it's also a good idea to have a change of clothes to keep from getting your interior wet once you exit the water.
There is nothing quite like wading a natural stream, the beauty and wild nature of streams in Kentucky are unmatched in fishing opportunities.
Suggestions for stream fishing: Ultra-light rod or short fly rods. In some sections you can use casting gear if you are in areas that contain musky. Small in-line spinners, top water baits like poppers, darters, ¼ oz. spinner-baits (safety-pin type) and small plastic worms and Jigs. Some finger nail clips and small dip net, waders if you want to stay dry or some good water shoes if you plan to get wet. It's also a good idea to put things like your wallet, fishing license and cell phones or water sensitive items like watches or GPS units into water tight plastic bags.
The other two streams that I listed at the beginning of this article were Little Sandy River and East Fork, which is also part of the little Sandy River, not to be confused with the East Fork of Indian Creek, in Daniel Boone National Forest.
The East Fork of The Little Sandy River and the Little Sandy main branch comes together in Greenup Kentucky sum 45 miles from the head waters of East Fork that then makes its way to the Ohio River. The main branch of the little Sandy is about 84 miles long forming in Elliott County passing through Carter and Greenup counties; it's also worth noting that Grayson Lake is made from the impounding of the Little Sandy River. Grayson Lake is 1,510 acres making a 17,085 acre park. The spill way on to the Ohio River is loaded with excellent wading opportunities. Along with the other fish listed; this river also has a white bass run that produces good catches in the spring months.
While these streams are popular for Smallmouth they are also stocked with Trout, while all locations may not hold Trout many areas do.
If you get the chance to wade the streams of eastern Kentucky we would like to hear from you.
Tell me your stories; we may select some of them to publish here in the magazine.
Till Next Time
Good Fishing